Well, after spending much of last week down and out with one of the worst colds I've had in ages, I do now hereby return the LRR Blog to its regularly-scheduled weekly updates!
LoadingReadyRun: Current: Some Kind of Geek – Previous: PTA Meeting
Unskippable: Current: Knight's Contract – Previous: Cabela's Survival: Shadows of Katmai
Checkpoint: Current: Ubi Goes Soft – Previous: Gaming the System
Feed Dump: Current: Commentary All-Stars – Previous: Fruit Fly Rejection
Loading Time: Current: Extra Extras – Previous: Assassin in the Snow
GPLP: (PT6, PT7, PT8)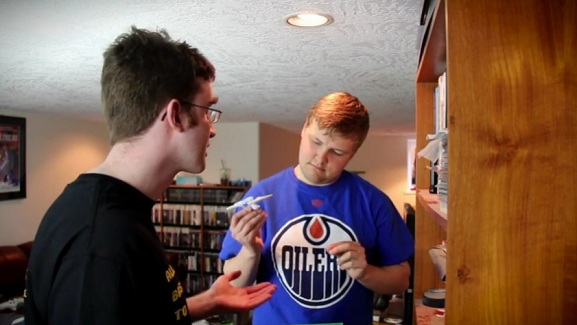 This week's video was written by our forums' own Andrew Metcalfe (Metcarfre), sports fan, geek, fashionable man about town, and connoisseur of fine comedy that he is. Fun fact: when this script originally arrived in our inbox, it was missing it's entire third page due to some unfortunate confluence of technology. Graham read it and proceeded to think, "Hm. well, it's not bad. Bit short. Ends kind of abruptly." It wasn't until somewhat later that he realized that the script wasn't actually complete, and asked Andrew about the rest of it. To Andrew's credit, the script almost worked without. To his further credit, it worked even better with.
Next weekend is PAX East so it's time for a reminder that Graham, Kathleen, James and I will be in attendance for the entire duration of the con. We'll have a table in band-land, and we'll work to arrange a meetup at one point or another (though we're not sure when or where yet), and we'll also have panels! Here's the details!
FRIDAY:
6:00PM – MANTICORE THEATRE – THE BLANKITY BLANK PANEL
10:30PM – WYVERN THEATRE – ESCAPIST MOVIE NIGHT
SATURDAY:
10:00PM – NAGA THEATRE – AN EVENING WITH LOADINGREADYRUN
We hope to see you there!