As we return you to our site's regularly scheduled blog updates (sorry, this month has been a little hectic) we also return TO you a series that has been dormant for a very long time. It's Fun With Microwaves!
LoadingReadyRun: Fun With Microwaves 3
Unskippable: Sacred 2: Fallen Angel
Checkpoint: God of Gore
Feed Dump: Van Dump
Loading Time: BEES!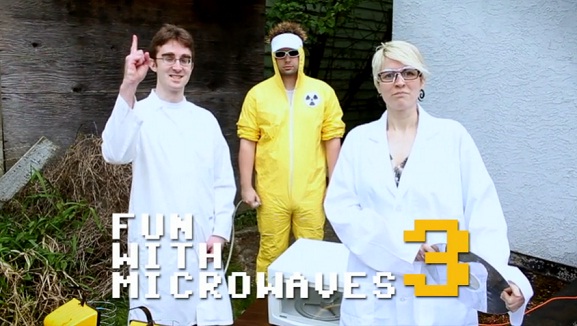 I was off having some grand adventure in the land of Vancouver during filming this week, so I leave it to Graham to say a few words about the video shoot:
The intro to this video is almost totally accurate. While I had been thinking recently of doing another Fun with Microwaves video, finding the package that Russell sent us (which I received probably two years ago, while I was still living with Matt) was the impetuous to actually do it. We had a couple new ideas, and wanted to revisit some old favourites with the benefit of better video quality, so it seemed like a fun way to spend a sunny afternoon.

As it happened, there were actually some hilariously frustrating setbacks, all of which will be detailed in a future episode of Loading Time, but it worked out in the end. The original progenitor of the idea, Ray, had even been hanging on to that "smile" lightbulb for just such an emergency as this. As you can tell from my child-like squealing, it was one of my favourite reactions. Also, really seriously, don't microwave eggs. Yeesh.
Cheers til next week!