The new video is up. Head on over and check it out!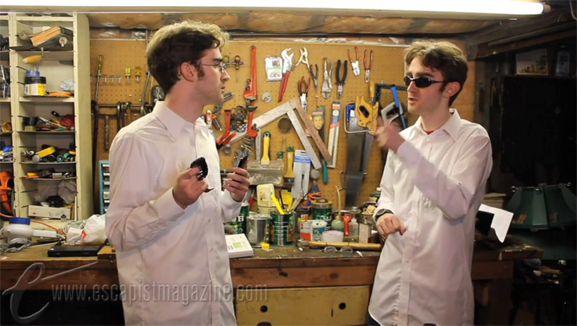 Paul provided me his thoughts on the writing and production of this video. I've quoted him below:
"A number of years ago we made a video called One Minute Shorts that was a collection of vignettes, each exactly one minute in length. My favorite of these was one that dealt with someone time traveling one minute into the past, and ever since doing that short I have had the idea in the back of my mind to take that concept and expand it into a full video. The actual shoot went surprisingly quickly, considering all the split-screening involved, and I am very happy with the final product. I think the workshop really shows off the new camera well (especially considering that the lighting in the basement where we shot was not that good)."
Pictured below is the timeline for the video that Paul used to keep his writing on track, to keep the characters straight, and so that all the entrances and exits happened when they were supposed to. He also tried to use it to explain the video to the rest of us, but I'm pretty sure it didn't help.