PREPARE FOR THIS WEEK'S VIDEO.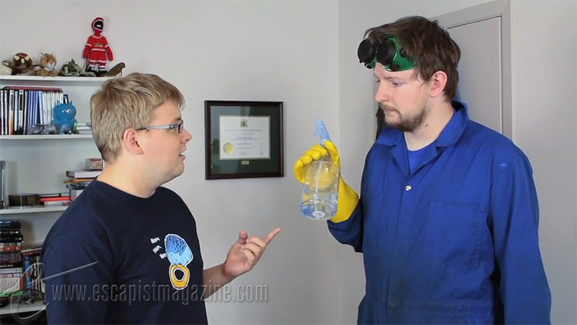 From day one, the plan had been for Paul to play the part of the bed owner in this video. Naturally, that didn't happen. I was wicked sick with a cold on the day we shot this, and I came by Graham and Kathleen's place for… I don't remember. And Paul was there to play the part, but couldn't do it because… I don't remember. That should be reasonable evidence of how sick I was when we shot this. I felt like balls, and don't remember most of the evening. I do, however, remember suggesting the stinger. I think that turned out well.
Spoilers- go watch the video before reading more:
The shot of Graham and I outside the burning house looks brilliant but is constructed in a way that is hilariously low-tech. We had to do that shot on a subsequent night, and we were short on people to crew. The embers are a post effect, obviously. Paul's manning the camera, if I recall, and Kathleen is holding the boom in one hand, and swinging an incandescent light fixture back and forth randomly, in such a way that the light bounces to our faces in a random slow flicker. It looks awesome, but I'm sure to any passers by it probably would have looked like the most ridiculously unprofessional lighting system in the history of film.
Unskippable this week was Fracture. the video can be found here.
Cheers!