I have kidnapped your girlfriend! Now do as I say, and watch this week's video if you want to see her again!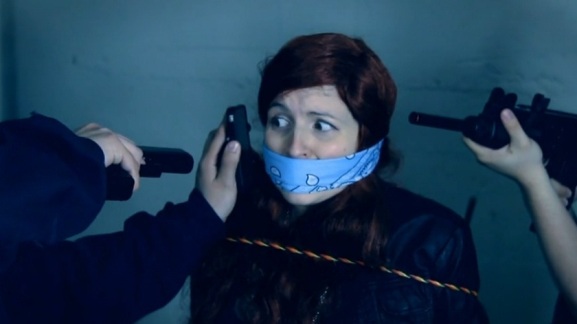 Today's video features one of the more ridiculous scenarios I've been a party to filming. I'm not sure quite what the relationship between LeFarge and Ethan is in this video, nor what event set their rivalry in motion. What do these fellows do when they're not engaging in felony-related hijinks? That's a very good question.
As has become the standard for any video in which we require a somewhat seedy-underbelly style location for a shoot, we shot this sketch in the basement of the Victoria Event Centre. It's a great place, but that basement most definitelty meets all of one's unsavory-location needs.
A big thanks also to Graham's mother for playing the role of Ethan's mother the video. There no one who can bring 'Graham's mom' to a role quite like Graham's mom herself.
Checkpoint this week is titled "Patently Silly" and can be found here on PATV.
As of the writing of this post today's Unskippable isn't yet live, but I'll update with a link when it's online.
Cheers!