This week's video is up, and it's a brand shiny new X ways to Y! You can find it right here.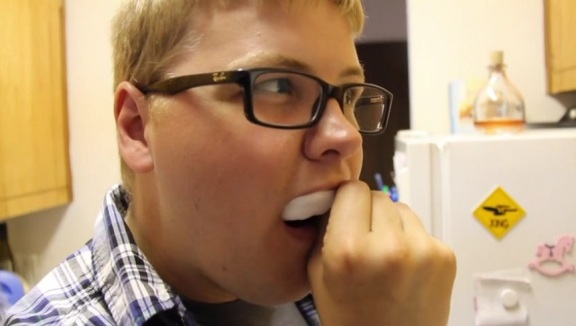 This week's video was filmed while Graham and Kathleen were away on vacation, and it features none other than me! The decision that I should star in this was made while I wasn't around, because every possibility the guys had planned at that point was going to be unpleasant, messy, potentially fatal, or some combination of the three. Being the only true artiste among Paul, James, Jer, and myself, I sacked up and did it.
Protips: White bread with a sliced onion and plain rice on it is not delicious. Chewing an entire pack of Whitening gum has the potential to abrade flesh off the roof of your mouth. Sucking back a half a cigar as fast as you can possibly manage is an experience I recommend to no one. Cold-dropping to a linoleum floor is a good way to take a patch of skin off your elbow (though I am ludicrously pleased with how it looked!). Coke first, then Mentos.
Unskippable this week was Dragon Age II. You can catch that over at The Escapist.
PATV has this week's episode of Checkpoint. (Which is fresh off the presses, having been filmed, edited, and uploaded yesterday!)
Cheers!