We're sorry, this week's video is not currently viewable with your Neighbourhood Wireless plan. Please click below to upgrade.
LoadingReadyRun: Friends and Family
Unskippable: Kingdoms of Amalur: Reckoning
Checkpoint: Beyond Infinity
Feed Dump: Facebook Girlfriend
Loading Time: History of the Moonbase
GPLP: Cursed Crusade (PT3)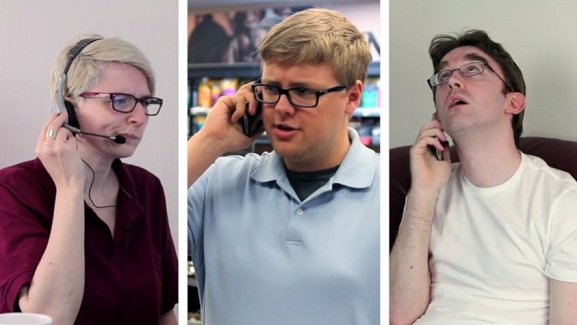 The video this week was one that came together with remarkable speed and very few roadblocks. Written earlier this week by Paul, this one got rapid approval, and was shot with remarkable efficiency on Saturday. I won't get into too much detail over why this video was so quick to shoot (we'll be covering that on Loading Time, Thursday), but suffice to say that more time was spent travelling from location to location than actually filming.
One thing you may notice is that during my brief appearance in this video, we're actually in a pet store. That was all luck. We didn't have a location lined up for that shot. We just drove to a local Bosley's and asked if they'd let us shoot a couple of lines in their store. Turns out they were totally cool with it. They may even be reading this now! (Hi Bosley's guys! Thanks for letting us film!) It's a good thing they did, too, because we did not have a backup location ready to go.
For more on this video, make sure to check out loading time this week, it should be pretty cool.
Cheers!
Matt