Well, it's Wednesday as I'm writing this blog post, and that means I didn't manage to get it online quite as quickly as I would have liked. Let me assure you though that it had nothing at all to do with being hung up on Reddit yesterday afternoon.
commodoreHUSTLE: Mustache You A Question
Unskippable: White Knight Chronicles II, Part 2
Checkpoint: Til Ring Out Do Us Part
Feed Dump: Spears & Spume
Loading Time: CPC Golf
GPLP: Cursed Crusade (PT8)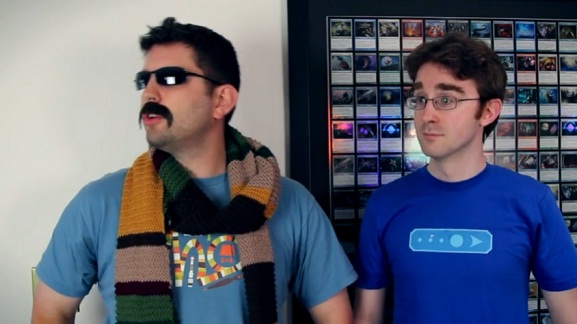 Like most of our commodoreHUSLE episodes, this one holds a grain of truth – or rather two grains of truth, as there are concurrent story-lines occurring in this episode. The first is that James looks badass in a moustache. This comes up basically every time James plays any character that needs one. A good Burt Reynolds style soup strainer gives James an air of authority that he just doesn't exude when his face goes bald.
The other major story-line in this episode as to do with the crew being unable to concentrate on filming because we're looking at Reddit on our phones. This is basically a real thing that happens. It's not even actually a joke. I think the writing of this episode may have been an attempt at catharsis. Of course, then we went to film this the day after we all got hooked on NimbleBit's new game Pocket Planes, and- let's just say, in basically every scene where I'm playing with my phone, I'm actually just playing with my phone.
I was method acting or something.
One last announcement before I sign off: on July 6th at 6PM Pacific, LoadingReadyRun will be participating in the XBox Live "Game With Fame" event promoting the launch of Duels of the Planeswalkers 2013. Details can be found here. We had a blast when we did this for Duels 2012, so we do hope you'll come out and play with us again!
Cheers!