This week's video is here, and it is frightfully funny.
LoadingReadyRun: Fear Itself
Unskippable: DarkStar One: Broken Alliance
Checkpoint: Square Enix Versus Rumors
Feed Dump: Mugshots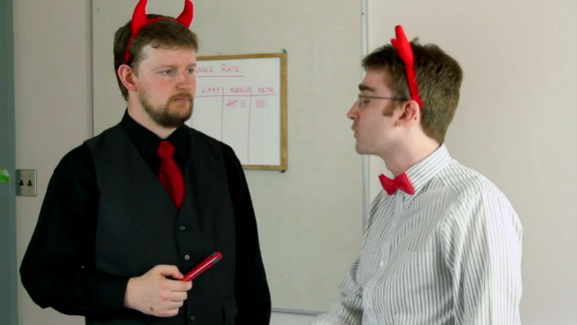 This is one of those somewhat uncommon (recently) videos that was shot and prepared a full week in advance of release. Graham, James, and Kathleen were all out of town this weekend, so last week we did double duty and shot Jonny Four and Fear Itself on subsequent days. This particular video was shot at a couple of locations around Uvic, (a board-room in the Clearihue building, and the parking garage under the University Centre specifically), as well as back at our office. Despite the location changes, this shoot was pretty straightforward, but we made sure to get footage for a Loading Time episode, so you can plan to watch that on Thursday.
One other update from behind the scenes was that we held a major DesertBus Planning meeting this weekend (via Google Hangouts). The hangout proved super useful, actually, as we connected planners in five cities, between two provinces (and a state!) and carried it all off without any significant hitches. It also sounds super impressive to think that our planning crew now spreads this wide. Desert Bus is going to be awesome this year, guys. Seriously.
Cheers til next week!