Greetings all. Welcome to the last week of June and the first official week of Summer. I'm your host James and if you would be so kind to keep your arms (legs not so much) inside the blog post at all times we can get things rolling right along.
First up. This weekend we are hosting the Hour of Devastation Pre-PreRelease. We'll have snacks and pizza and soda pop, none of which you can have of course, but you get the next best thing; ENTERTAINMENT! Peep this graphic for all the details and head over to our Twitch Channel and hit that follow button to be pinged when we go live.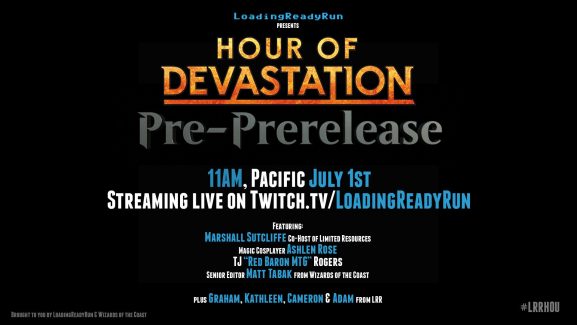 Now, let's get on to the videos. It's been a busy week here at The Moonbase and we have a bunch of great videos to share with you. Let's kick it off with a brand new LoadingReadyLIVE!
Next up we have Feed Dump 308 – This week, chaos reigns in Santa Monica, an elderly couple are stupid, and we tackle the exceptionally rare FOLLOW UP story!
Graham, Kathleen and Paul are back with another look at the world of video game news on CheckPoint.
Due to GP Vegas we were a little behind on uploading TapTapConcede, so this past week saw a double shot. First up Graham, Cameron and Kathleen discussed the Art of Magic: The Gathering.
And then in TTC 179 Cameron and Ben took a look at all the news from the past few weeks and they were joined by Beej to learn all about MtG Puzzle Quest.
And finally this week I leave you with a couple Crapshots.