Hey everyone! It's that time of year again… PAX WEST!
This year pretty much the whole darn crew is going to be there (minus Paul and Alex, who have some fun things scheduled in Victoria) and as usual, we'll have a table, some cool new merch, and we'll be on a ton of panels!
First up, where can you can find us, touch us and possibly conduct commerce with us? At our cool table in Bandland! As in previous years, Bandland is located on level 6 of the WSCC, up at the very top of the large escalators.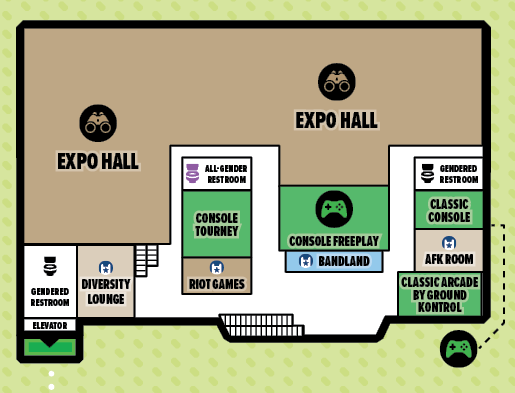 Next… I mentioned cool new merch, so what is it? This year we have an embarrassment of Pinny Arcade Pins, where an embarrassment equals… five. We have a Spoopbucks pin and a four pack featuring your favourite technologically savvy cavemen Krog, Torg and Herc! You can pick up the new pins, as well as playmate, shirts, DVDs and card sleeves at the aforementioned Bandland table.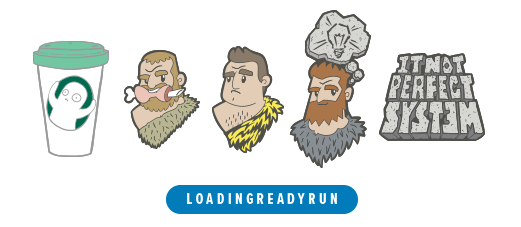 And finally… PANELS! We're on so many panels this year, you'd need a schedule to keep track of them all. Thankfully, I have prepared that for you.

Jackbox at Pax… Box
Friday, September 1
4:30pm to 5:30pm, Wyvern Theatre
The Jackbox Party Pack games are well known for being hilarious and this panel will make the most of it. Graham, Kathleen and other very cool people will be playing the brand new Party Pack 4 in front of a live audience!
We Are Desert Bus: The Desert Bus for Hope Doc Premiere
Friday, September 1
8:00pm – 10:00pm, Cat Theatre
Celebrate the 10th anniversary of Desert Bus for Hope with the story of how a Desert Bus comes together. EXTENDED EDITION! With commentary and Q&A!
The LoadingReadyRun Panel
Saturday, September 2
3:30pm – 4:30pm, Sasquatch Theatre
Your friendly Canadian cadre of YouTubesm'n and streamfriends are back! Join us as we talk about fun things, answer your questions, and generally entertain you for an hour.
Late Night Dub Fight!
Saturday, September 2
9:30pm – 10:30pm, Sasquatch Theatre
The Late Night Dub Fight pits panelists against each other to find out who can "improve" classic clips by redubbing them live with their imposing improv skills. This panel has filled to capacity in previous years, please come early. (13+)
Action Cats: The Game Show!
Sunday, September 3
9:00pm – 10:00pm, Wyvern Theatre
Cori, Ian and Kathleen join Molly Lewis and other hilarious guests in a live play-through of Action Cats!
The Improv Initiative Introduces EXCELLENT COMEDY
Sunday, September 3
10:00pm – 11:00pm, Hydra Theatre
Improv is back at PAX with Graham, Ian, Beej, Dan Emmons, Greg Stackhouse and Scott Dewitt
Twitch Meet and Greet with James and Graham!
Monday, September 4
12:30 – 2:00, Booth #1909
Lay hands upon Graham and James from the comfort of the Expo Floor Twitch Booth.