November is a strange month around these parts. The first week feels relatively normal. We shoot some videos, record some podcasts and stream some video games. Then Desert Bus is 1 week out and then there's nothing. Well I mean there's Desert Bus, but that is just a blur when you're in the thick of it. Then all of a sudden it's less than a month till Christmas and OH GOD WHAT AM I GETTING MY MOM FOR CHRISTMAS?!
But of course that's not your problem.
Let's talk about Desert Bus. I can sum up the experience in one pretty straight forward image.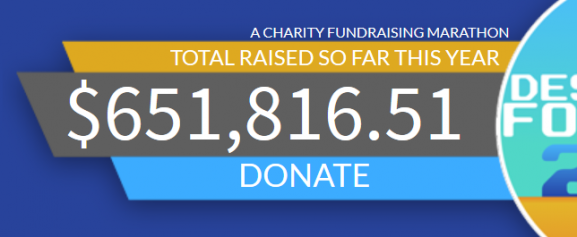 You did that. Every single one of you made that number a reality. You could take away $600,000 from that total and still we'd have made more than double what we did way back in 2007. It's pure madness, and we love you all so much for it. Thank you.
Now let's have a chat about what's coming up for us over the next couple months.
December 8th @ 11:00AM Pacific at twitch.tv/loadingreadyrun is the Unstable Pre-PreRelease featuring our regular LRR players along side Mark Rosewater, Wedge from TheManaSource and both Meghan and Maria from Magic: The Amateuring. It's going to be an absolute blast.
January 4th-7th, 2018 Ben, Beej and Ian are heading out east for MAGFest. You can purchase your badges here! And while they're off living it up in Maryland, the rest of us will be back in Victoria hosting the Rivals of Ixalan PPR. More info on that coming soon.
And finally January 12th-14th in San Antonio Texas some number of us (like 4, just not sure on who yet) will be down for PAX South. Badges for that are still available and can be purchased here.
Now let's talk Videos. Between now and the last time I was with you we have released a TON of content. For the first time in many years we managed to keep our YouTube channel up and running during Desert Bus. So instead of sharing ALL the videos, I will share my personal favorites and anything I miss can be found by heading over to our YouTube Channel. While you're there make sure you're subscribed.
First up we have the Monthly Mail Time from October.
The episode of Feed Dump that was filmed mere days before Desert Bus.
Loading Time Digest for October.
And finally a Crapshot about Magic.
That'll do it for this week. Join me next week for a totally "normal" blog entry.