Have you done your good turn for the day? If not, click the link for this week's video, below.
LoadingReadyRun: Scout's Dishonor
Unskippable: Death by Degrees
Checkpoint: Final Fanstasy Apology
Feed Dump: Libyan Cinnabon
Loading Time: Editing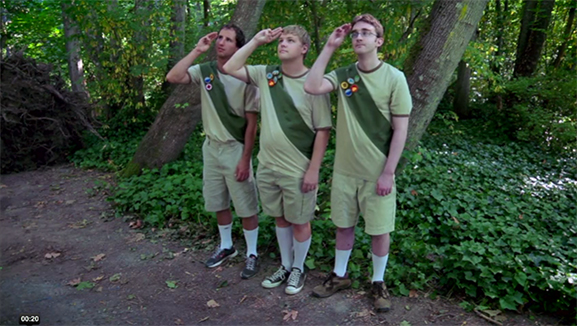 Our video this week was filmed at great personal expense. I don't mean financial expense – mono, the site covered the cost of props and costumes. I mean bodily expense. We filmed this episode in UVic's 'Mystic Vale' – that's a parcel of forest land owned by the school, and holy hell was it ever overrun with mosquitos. WIthin minutes of arriving we realized that we were going to need insect spray, (which of course we didn't bring) so we sent James to go get some. In the intervening time between our arrival, and James' return with some Deep Woods Off, we got EATEN ALIVE. I know Graham's bite count was in the teens, mine was well over 22. I don't know about the others, but the liklelihood that one of us contracted malaria is very high. (Or it would be if malarial mosquitos were a concern here in Canada).
This is probably going to be one of my last blog post for LoadingReadyRun – at least for the next year – as I'm headed back to school at the end of the month, and I'm not going to be in Victoria much for the weeks until then. Fear not though, as I understand that Kathleen will be taking over my blogging and site updating duties, and she's actually a witty and capable writer (unlike the hack that's been doing this until now). I'll probably do an official final post before I hand over the torch permanently, but in case I don't have a chance, it's been a thrill writing these for you, and I hope you've enjoyed reading them as much as I've enjoyed having them read!
Cheers!