Hi All!
Edit:
Desert Bus 6 is upon us and I'll admit, I haven't spent any time in the chat so this won't be all that up to date. I completely forgot this thread existed! The desertbus.org/live chat window flies by just like the ustream chat window used to, so a dedicated IRC client will be useful. I've adjusted the text of this post to reflect the new IRC server, though the images will remain of the old Ustream server. Follow the text of the post, not the text in the images!
--------------------
Step 1 is no longer relevant
Many of us discovered (or re-discovered) that the chat window on desertbus.org/live site is small. When there are 500+ viewers it's practically worthless. Fortunately, the desertbus.org/live chat is actually an embedded IRC client (Internet Relay Chat for you young'uns). This means everyone can access the chat from an external application.

Step 1 - Edit for DB6: you don't need a UStream account anymore, but you do want a Desert Bus donor account! desertbus.org/donor
Step 2 – Download and install mIRC
(it's really small ~1.6MB)
If you have a Mac, Graham noted below that you can try "Conversation" or "Colloquy" instead of mIRC.
Step 3 – Define your nick (i.e., Chat User name)
When you first start mIRC, you'll see a pop-up for mIRC Options and it defaults to the Connect Category. Until you've registered your nick on the IRC server (step 7 below), the only important piece here is the Nickname – this should be the ID you wish to use in the Desert Bus chat for the duration of DesertBus. The Full Name and Email Address can just be garbage. Don't click OK.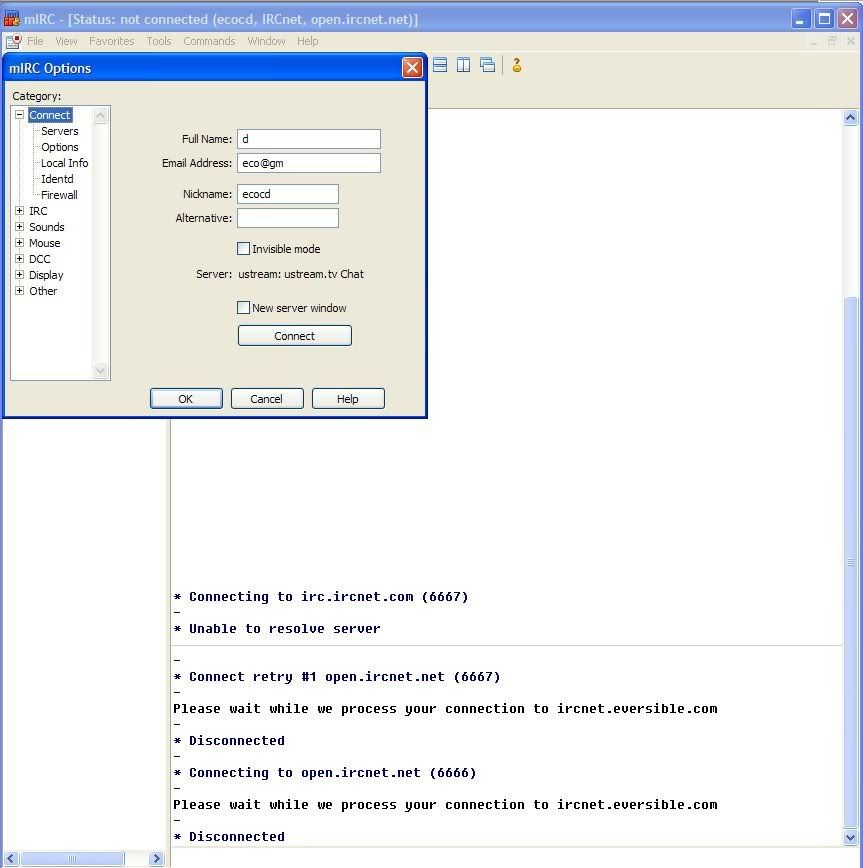 Step 4 – Add the Desert Bus server
Still in the mIRC Options window, click down to Servers in the Category Box (on the left side). Now click the Add button.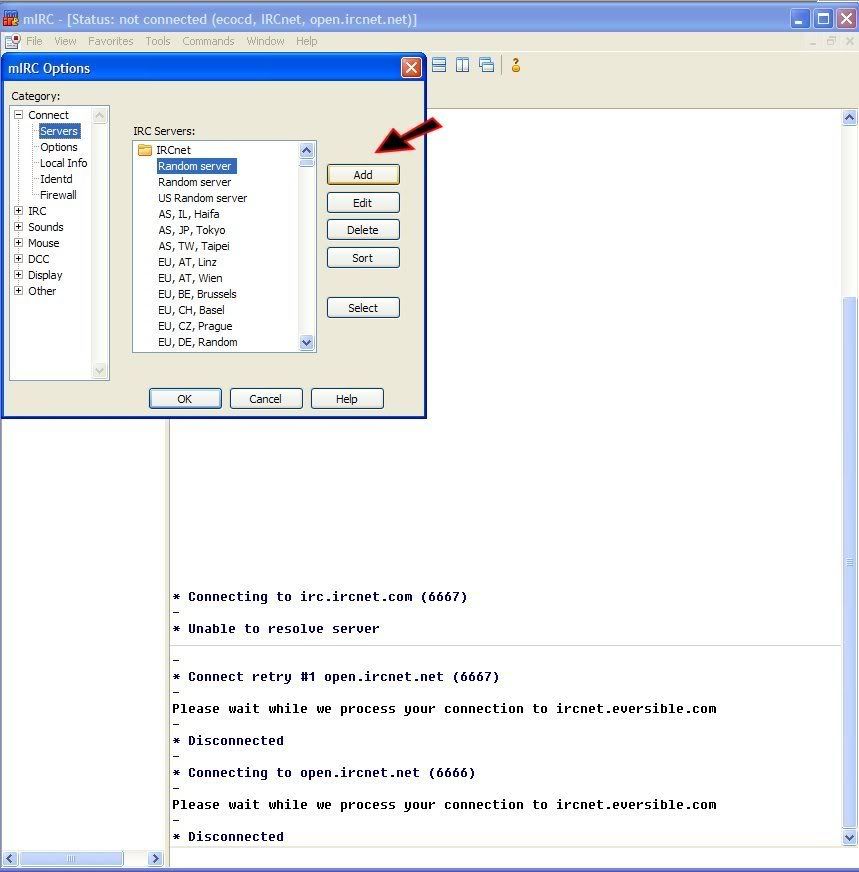 On the Add Server window, you'll need to fill in the details.
Description:
whatever you want, I went with, "DesertBus"
IRC Server
: irc.desertbus.org
Ports
: keep this as 6667
Group
: DB
Password
: If you've registered your nick with NickServer enter it here, otherwise leave blank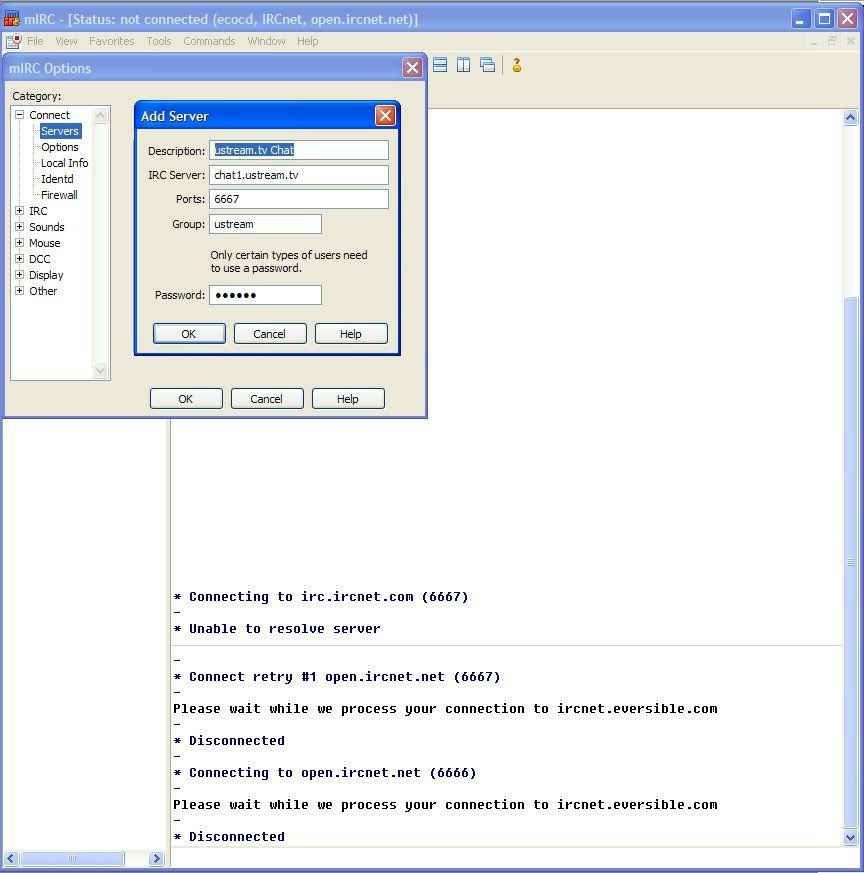 Click OK when you're finished

Step 5 – Select Server
You'll end up back on the mIRC Options window with a big list of servers. Find the DB folder, expand it and Select your server Description (recall, I named mine "DesertBus").
Step 6 – Connect
Now you'll be sent back to the Connect Category within the mIRC Options window. Click Connect. If all goes well, you will be presented with an mIRC welcome window and a #desertbus chat window behind the welcome window.
Optional Step 7 – Register your nick
If this is the first time you've logged in and you haven't registered your nick, you may want to do so now. In fact, do it ahead of time if you can to make sure everything is in order before the pre-show starts!
In the welcome window you'll see something like:
Code: Select all
-
-NickServ- This is a registered nick. Please use /msg nickserv login EMAIL PASSWORD to verify your identity
-
Your email and password are those associated with your donor account that you created through desertbus.org/donor. To register my nick I entered something like:
edit for DB6: stuff that was here doesn't happen anymore
I still haven't been able to get it to automatically log me in when I enter the chat. It can probably be done, but I don't know how.

Finally, you'll want to add your password to the Server settings which you originally set up in Step 4. Go to the File Menu and "Select Server." Find your DesertBus group (recall, I suggested group "DB" above), select the server (I used, "Desert Bus") and click the "Edit" button. Now you can fill in the Password field with the password you just registered and click OK. On your next login, you won't have to confirm your nick with any IRC bots.
One last piece of advice I'll give is that to keep the window clean, you probably want to turn off notifications for people arriving and leaving the chat. From the main IRC window go to
Tools -> Options -> IRC -> Events
You'll want to select the "Hide" option for at least "Joins" and "Parts"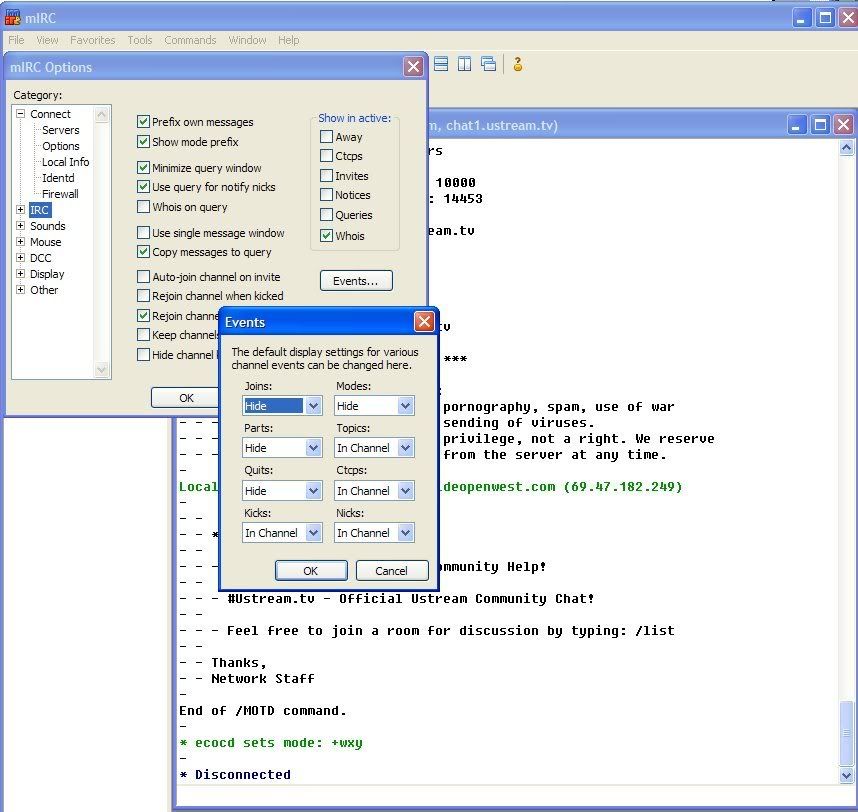 If anyone has anything to add feel free to post. I don't really know what I'm doing, but I thought I'd give people a place to point next week when the inevitable, "how do I get IRC?" questions arise.
Edit: Added a picture that was missing.
Edit2: Updated for Desert Bus 5
Edit3: Some updates for Desert Bus 6