http://webcast.berkeley.edu/course_deta ... 8306#15358
Someone just sent me a link to a guy named Dreyfus who works at Berkley and does podcasts of his lectures, I'm listening to the one on The Brothers Karamozov and it's great.
http://www.ted.com/
Informative, funny, inspiring, and really interesting lectures given by a diverse number of people. Some of them are comedians, some are masters in their fields, some are just sharing things they've done or started. It's a really great website.
http://www.intelligencesquared.com/home
A friend sent me a link to this a few weeks ago. These guys host debates in which it's usually 3 people opposed to an argument and 3 people for it. A vote is taken at the start to see how the audience feels and another vote is taken at the end to see how their opinions were changed by the speakers. The debates are roughly an hour and a half long, they can be dry unless you're particularly interested in the subject, but the speaker can be genuinely funny at times.
http://a.aaaarg.org/
I haven't been using it long enough to really know anything so here's their about page:
AAAARG is a conversation platform - at different times it performs as a school, or a reading group, or a journal.



AAAARG was created with the intention of developing critical discourse outside of an institutional framework. But rather than thinking of it like a new building, imagine scaffolding that attaches onto existing buildings and creates new architectures between them.
(It took me a couple days to receive my account confirmation in case you want to sign up)
http://gunshowcomic.com/
KC Green has been making comics for a while and Gunshow is his current one, the one before this was Horribleville I think. I love his stuff and you'd be doing yourself a favor by checking it out. And here's his latest one: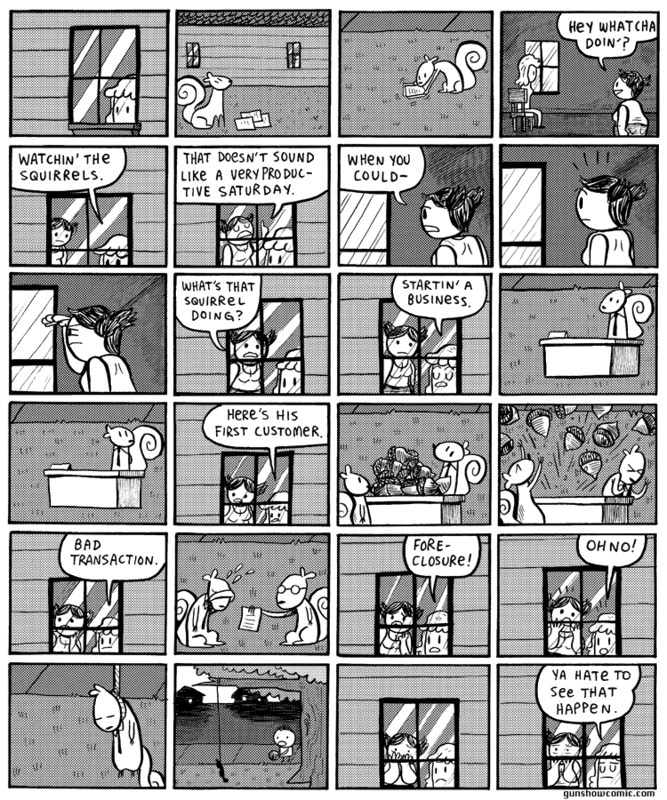 I like learning about other websites so, uh, just post ones you like (besides LRR) and maybe include some information about them.