I know this is not an anime board, but I know we have quite a few anime fans kicking around, including myself (hey, I discovered LRR at Kei-Kon). Since I am currently (though hopefully not for long) unemployed and with good Internet access, I've been watching a lot of anime and I have a lot to say about it and nobody here to talk to. So, I thought I would share some of my thoughts and maybe put a few fans on to some good series that I've found.
P.S. Anime haters, please just walk away.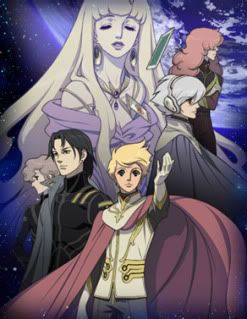 Toward the Terra (2007) - 8/10
This is a sci-fi series based on a manga from the 70s that takes place in the future when human being have destroyed the Earth and had to move on to other planets. Gradually, different types of people start appearing who have special powers. They are called the Mu and humanity decides that they are dangerous and should be eliminated.
This series starts out as something very stereotypically anime. People with special powers being persecuted, a young, unwilling hero who doesn't want to accept that he's different. Honestly, I wasn't impressed after the first couple of episodes, but I stuck with it and it was worth it, because after 6 or 7 episodes it starts becoming something much bigger.
As it develops, this show starts presenting some very interesting ideas about leadership, sacrifices, what it means to be human (even biologically) and whether the choices we make are the right ones. Unfortunately, some of the most interesting ideas are not presented until very near the end of the show, so we don't have as much time to consider them.
We are introduced to an ever-growing cast of characters who are decently well-developed for a plot driven series. The characters are allowed to grow and change and it's very rewarding to see. The art is very nice and the music is fantastic.
If I had to complain about one thing, I would say it suffers a bit from too many significant characters. If you count everyone who has a name, lines and has some role in the story, you'll have around 30 in a 24 episode series, where usually there are more like 10-20. The series really wants us to know and care about all these people and while it does a good job, sometimes it feels a bit forced, like we were made to care about them just enough so that we would fell something when someone died.
While not quite a masterpiece in my mind, this is a very solid series with an engaging and mostly unpredictable plot, interesting characters and good production values. Definitely entertaining and worth a look.
Edit: added a picture