You may know of Wakfu, the Fire Emblem-ish MMORPG where you can play as one of the devotee of one of 12 specific gods. Well, did you know that before there was a game, there was an animation?
In October 2008, France-3 began airing the first episode of Wakfu. It follows the story of Yugo, a boy who discovers he has the power to make portals, a power unlike any in the World of Twelve, a world already teeming with divine magic and superhuman traits. So he teams up with a brave Iop called Sir Tristepin de Percedal, a knight carrying a demonic weapon, a Cra (archer) named Evangelyne, her charge, princess Amalia of the Sadida, and Ruel, an old Enutrof.
Iop, Cra, Sadida and Enutrop are not races, but gods, and their followers share some physical traits in common and are called as a group by the name of their god. Together, they must discover the isle of Grougaloragran the dragon, and discover the truth of Yugo's family and origins, before the evil Xelor Nox can harness enough of the life energy called wakfu to fuel his sinister (?) plot.
It's all done in Flash, which is amazing, but it's also all done in France, which is even more so.
Yugo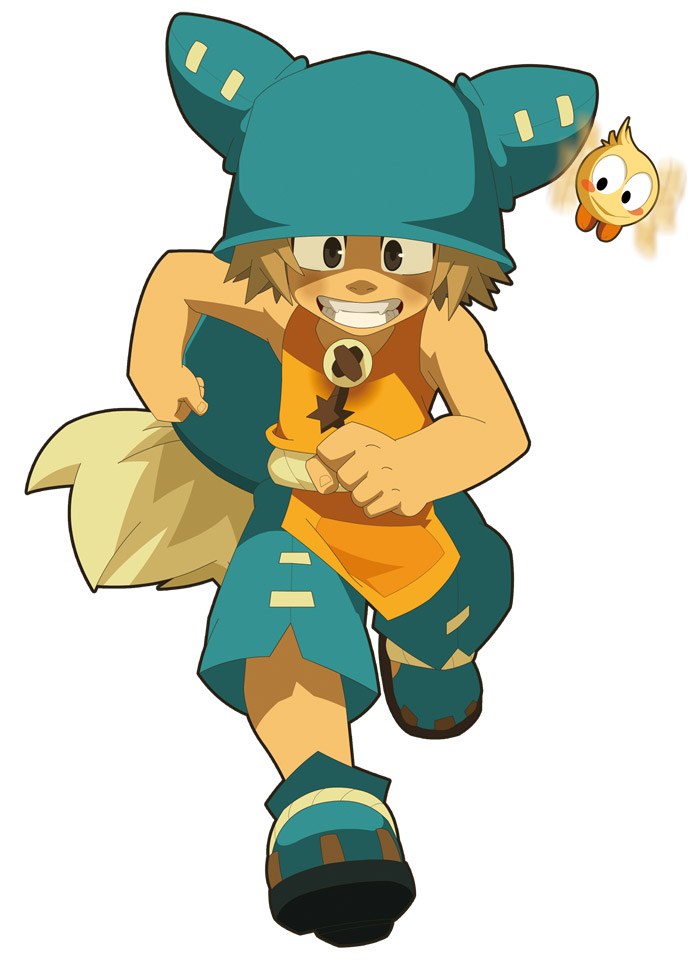 His friends and he
Nox
Also, this is a very rich fantasy universe (it's the basis for 2 MMOs, after all), so expect wild names for things. Like gobball, bow meow, tofu, etc.
I mention all this because, while there is no official English release, Ankama has started a kickstarter for one!
http://www.kickstarter.com/projects/1836563008/wakfu-the-animated-series
I say check out this series, through the usual channels (because subs aren't quite technically available right now...). It has fluid animation, spectacular fight scenes, humorous content, suprisingly touching moments, especially near the end, etc. I'd say it's about a "Batman: The Animated Series" level of good. Except for episode 5, that one's kinda bad.
It also has a second season, which starts off really strongly but peters down around ep 10 then only picks up for the final 4 episodes. It kinda works, but it's not as emotionally engaging as season 1.
There's also French graphic novels (translated online, check usual channels :whistle:), franga (guess what that is), and a whole other animated series called Dofus which is shorter, lighter in tone, and half the episode length, but the same quantity of animation, so twice the number of episodes. I may have stopped watching around episode 13? Meh.
Anyway, wakfu! What do you think? (Please post spoilers in spoilers).