If you'll be so kind as to indulge me, I'd like to show off this year's geeky gingerbread men. Last year was
Magic: the Gingering
. Before that was
Scott Pilgrim Vs. the Frosting
. This year? Avengerbread.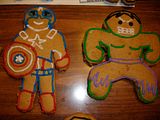 So, I learned that sliver pearl dust is better than trying to mix white and black for grey spots, but I still have no good solution for that color. Also, the Hulk makes a damn nice cookie man, best looking one I've done in ages.
Also, just for fun...
Shame the frosting went runny on me, messed up that signature smile. Ah well- still creepy.