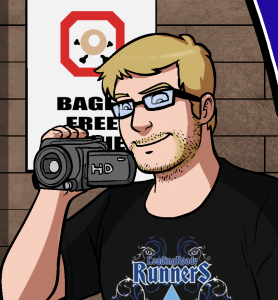 It's my sad duty this evening to announce  the departure of crewmember, CFO and Matt-doppleganger-prime, Tim Sevenhuysen, who has decided to move on from LoadingReadyRun.
Tim has been a huge asset to us since he joined the crew last year, helping keep everybody organized, making our bookkeeping massively more efficient, spearheading community initiatives like LoadingReadyRunners.com and Inside the Moon, and co-producing some of the best material we've made to date. He also has done a bang0up job producing behind-the-scenes material, and generally being a stand-up guy.
However, in life–as in all things–Q knows best, and as he is quick to point out in the series finale of Next Generation, all good things must come to an end. Tim has a busy life outside of LoadingReadyRun and his forthcoming masters thesis will be eating up much his time, now that the school year has begun. Speaking as someone who has been caught in the difficult bind between  school, a "real job" and the awesome–but time consuming and but not particularly glamorous–life of a web-based filmmaker, I can empathize with this.
We'll be sad to see Tim go, but wish him luck in future projects. I encourage any of you who with to send him off with style to comment on this post, or send him an email. I believe he will continue producing fiftywordstories.com, and I'm sure he'll find himself up to something else creative before we know it.
Love from all of us.