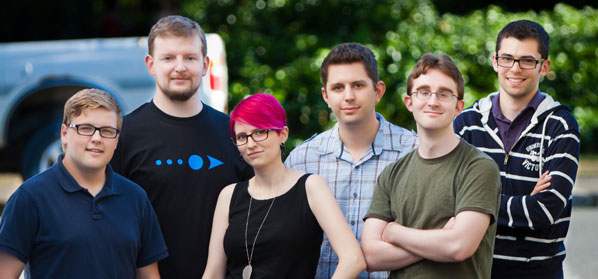 LoadingReadyRun is a comedy troupe and video production studio that currently produces the following shows:
Previous shows we've produced include:
We also produce a myriad of other videos such as the Friday Nights series for Wizards of The Coast, Tabletop Deathmatch for Cards Against Humanity, and previously Strip Search for Penny Arcade.
You can also visit LoadingReadyRun to see even more content! Stuff like vidcasts, Magic: The Gathering drafts, and Let's Play videos and much, much more! On top of all that, we also have 10 weekly streaming shows on Twitch. You can see our full schedule here. If you happen to miss a streaming show, don't despair - you can watch archived replays on our dedicated LoadingReadyLive YouTube channel.
Since 2007, LRR has also raised money for the charity Child's Play as a part of the Desert Bus for Hope gaming marathon. The event, which sees members of the crew play the worst video game ever made, has raised more than $1.8 million for children's hospitals all over the world.
In 2013 LRR appealed directly to their community through a Kickstarter project to fund their 11th and final season of weekly LRR sketches. Response was overwhelming, with the project surpassing its goal and raising over $160,000, which will be put to good use throughout the coming year. Thank you so much to all our generous backers!
Complete Kickstarter Backers list
LRR videos have been featured at the Comic Con International Film Festival in San Diego, and shown on major TV networks worldwide, including G4 TechTV, The CW, TruTV, NBC, Channel 4 (UK), Channel 5 (UK), MTV and CNN.
Founded in 2003, LoadingReadyRun started as a creative outlet for co-founders Graham Stark and Paul Saunders to fulfill their desire to make funny videos, but since then, LRR has grown into an internet comedy destination. Inspired in name and appearance by the Commodore 64 Home Computer System, LRR is a site run by (and for) geeks. We create videos and stream games because we love them, and we're passionate about comedy. Also because we're all workaholics with impulse control.

THE CREW

(The ones who handle the weekly operations at LRR)

:
CONTRIBUTORS

(The ones who are always on hand to help out and make LRR what it is)

:
PAST CREW MEMBERS

(They came, they saw, they filmed and then they found something better to do)

: