We're doing something a little different for our newest t-shirt: It's not based on a video, or from an existing LRR joke at all. It's something we just thought of, and found hilarious. Like, we couldn't stop laughing. For serious.
It turns out that historians have determined there is a specific date for the fall of Troy to the Greeks and their horse, and that date is April 24. Where's the respectful observance for them?
We actually thought of this a year ago, but were too late to put the shirt up in time, so we sat on it for a year and we're putting the pre-order up now. We're also running it for less time than usual. That should give us a month-and-a-half for printing, packaging and shipping. Most people should get theirs in time to show their solidarity with the fallen Trojans, on the date it actually happened. So we're told.
Check it out in our brand-new store: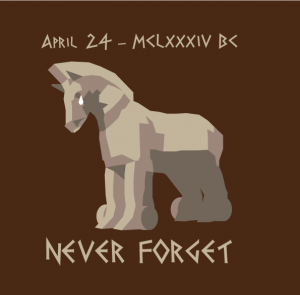 Creepy Doll Shirt Update: In case you missed it on Twitter, the print run went ahead, we have the shirts, and we'll be shipping them out this weekend. Your transit time will vary depending on what horrid distance lies between us.