Welcome my students. Clear your minds, and remember, there is only one rule… you must click here to see the video.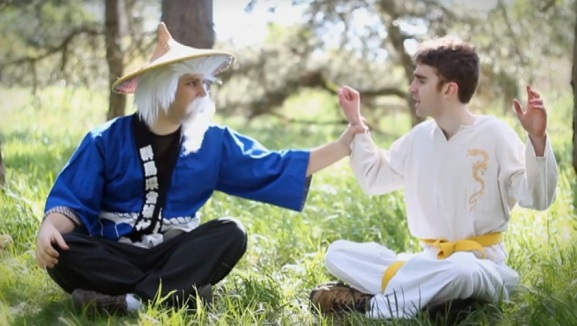 Hey everyone. Sorry about the late update this week, things have been kinda crazy. This week's video comes to you courtesy of Paul, in keeping with his long-standing tradition of writing scripts based on digging out the absurdity in the most minute details of everyday situations. We shot this video last weekend in Beacon Hill Park, not far from where we previously shot Cursing. Thankfully the weather has warmed up considerably, but it was windy as heck, and threatening to rain throughout the entire shoot. No Peacocks in shot this time, but at one time we did get surrounded by a flock of six or so that seemed to be curious as to what we were doing.
Unskippable this week was Front Mission: Evolved, you can watch that here.
Cheers!