Greetings all!
This Monday's LRR update brings us a new character, and his show "The Whole Story". Today's topic: Spam.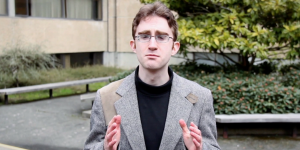 Paul wrote the video, and was inspired by the kind of History Channel program for which the host wears a turtleneck and elbow-patch-jacket. Running along a similar theme to our classic "Story Guy", there's enough truthful nuggets in this bizarre story to make it halfway believable (seriously, look some of it up!). And then you get to the howler monkeys.
Big thanks of course to Derek Hand, who provided drawings of the shipbound capybara, the bison accident, the P.I.G. patent, the bacon bush, and—of course—the howler monkey shock trooper. Check out his DeviantArt page here!
Additional thanks to the LRR maestro Bradley Rains for the "Whole Story" theme song, and the background music, previously used in Informational Presentation.
There's a brand new episode of CheckPoint over at PATV (featuring some theories about Bungie), and this week's Unskippable follows the exploits of an evil man named… Lloyd?