This is a thing we recorded and put on the internet.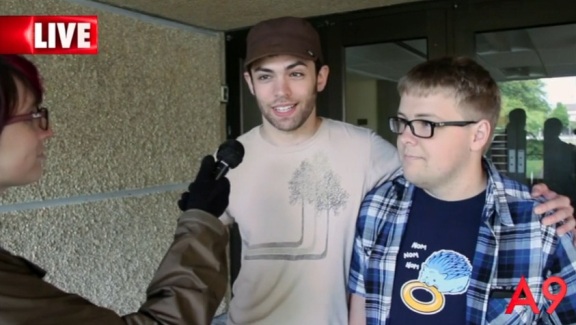 This week's video was shot only days ago, up at the University of Victoria. Filming was a bit of an adventure, because the script only really came together in it's finalized version earlier that morning. Graham had some thoughts to share on the writing process for this one, so I've posted them below:
A long while ago we thought it'd be cool to shoot a video entirely from the perspective of security cameras, but for the life of us we couldn't figure out what. It was a cool visual concept, but we never really had a script that made sense in that context.

Fast-forward many moons, probably more than a year: I was thinking again about that concept and realized that a video about video cameras made perfect sense!

I wrote the great bulk of the video, but I wasn't happy with the ending, and there was a problem with thematic flow around the three-quarters mark. Paul, Kathleen, Jeremy, James, Matt and I sat down for about 20 minutes prior to shooting and hashed it out, everyone throwing in ideas. Not only did this make the video much better, but I love writing as a group, and I don't think we do it often enough.

Actually shooting it was another crazy matter involving iPhone mics and tripods on desks, but we'll get into all that in an upcoming LRRcast. Hope you enjoy the video!
Unskippable this week was Dark Void. You can find the episode here.
And the new Checkpoint, "Plants vs. EA" s viewable on PATV.
Finally, please remember that there are now two weeks left in our Lasers of Understanding tee-shirt pre-order period!
Cheers!