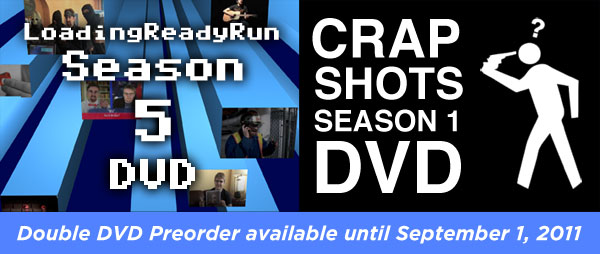 That's right! Not only is the long awaited Season 5 DVD now available for preorder, but we are also printing the first ever Crapshots DVD! Check out these amazing features:
52 LoadingReadyRun videos – Everything from Season 5 of LRR
Commentaries on every video from the entire cast!
Extensive bloopers and outtakes!
A special 20 minute interview with Uwe Boll
7 behind the scenes Loading Time episodes
"Green Screen" making-of videos for High Noon and Emergency Situation
AND because you asked for it, every T-Shirt Ad from Season 5!
100 Crapshots. You'll find at least one you like.
Commentaries on every episode by Alex and Graham.
Bloopers! Or "Misfires" as we call them.
Crapshot Roulette – Play a Random Crapshot! This was surprisingly difficult to do on a DVD, so please use it.
A VERY SPECIAL bonus feature made from footage assumed lost, but then later proven to be simply misplaced… Man Cooking Live! Watch Morgan snort chili powder!
And if that wasn't enough, if you preorder either of these DVDs before September 1st, 2011, we will throw in a free exclusive button and the whole crew will sign it!
PS: Since we were getting all these DVDs printed anyway, we decided to also do a reprint of Season 4, which has been out of stock for far too long. Buy it today and we will ship it out once the DVDs come at the end of August.