As many long-time LRR fans will notice, today's video is the first episode in Season 3 of Rapidfire!
"But," I hear you saying, "I've been watching for years and I haven't seen the first two seasons… and aren't you guys in your ninth or tenth season? What is this Rapidfire thing?"
Good question strawman! Rapidfire is the name for a series of videos that take our traditional "one sketch per video format" and replace it with a sketch that is itself, a series of sketches.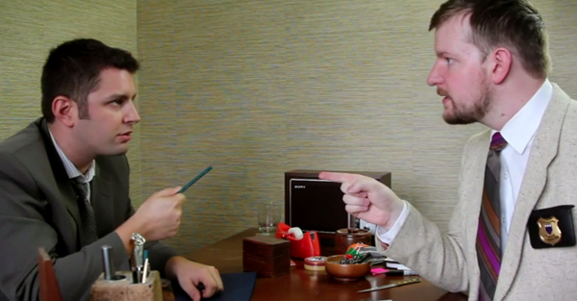 Comedy so fast theoretical physicists have a real problem with it. 
Inspired by the seminal The Fast Show, Rapidfire combines one-off jokes and re-occurring characters that go from episode to episode, and then intercuts them with the longer mini-sketches that serves as the frame for a specific video (this week it was the ongoing trials and tribulations of the world's least sensitive Angel, Gabrielle.)
You can look forward to seeing some old LRR characters like Kane and Crowthorne coming back — handy, since it lets us re-use popular characters that can't really support another full sketch — and new characters invented just for Rapidfire, such as "Worst Spokesperson Ever".
The first season of Rapidfire aired between June and December 2006, and the second season aired between September  and December 2008.
Of course, we did put up some other videos this week too.
CheckPoint: The Price of Progress
Feed Dump: Machete Party Crasher
Loading Time: On the Case of Cats
Unskippable: Lollipop Chainsaw
TL;DR
Rapidfire is back.