Good day all! Our friends over at DailyMTG are having a whole week dedicated to one of the Ravnica guilds from the latest Magic expansion, Gatecrash. They asked us if—in observance of this week for all things Boros—we had any questions for the Wizards R&D team about everyone's favourite Red/White guild.
Obviously, we had to put our own spin on it, and thankfully Magic Head Designer Mark Rosewater was happy to respond on the Boros' behalf.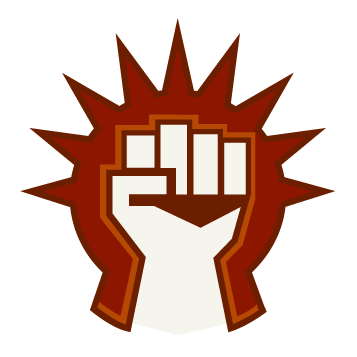 • LoadingReadyRun: Good afternoon… Boros, is it? The Boros Legion? Well, I've got your resume here but I'm going to cut to the chase, what do you feel you bring to our company?
Boros: Permission to speak, sir? Thank you, sir. Here's what the Boros brings to the table. We have the morality to know what needs to be done and the guts to do it. We find the cancer and we kick its ass. We don't make problems. We solve them.
• LRR: Interesting. We're looking for a self-starter, but it's also important to work as part of a team. Do you work well in teams?
Boros: Sir, teamwork is our bread and butter. We live, breathe and eat teamwork. The Orzhov extort. The Simic evolve. The Gruul bloodrush. I don't even understand what the Dimir do. We have a battalion. We hit fast, we hit hard, we hit as a team – preferably with three or more creatures – and we win before most of the other guilds have gotten out of bed. Having Boros on your side is the closest thing to having victory in your pocket.
• LRR: Hmm. But you can also function well individually?
Boros: Sir, we are trained, efficient veterans who aren't afraid of getting our hands dirty. Even a single Boros can get the job done.
• LRR: I see. Shifting gears now, can you give me an example of how you've dealt with a workplace dispute?
Boros: Permission to speak freely, sir? Thank you. If someone else oversteps their authority, I put them back in their place. I prefer using my fists, but I'm more than happy to escalate to weapons. I remember an incident when Sergeant Vorjek questioned my squad's combat performance. I granted him four days best rest to think about repeating such an action.
• LRR: All right. And, related to that, can you give me an example how you've handled a dispute with someone who isn't a coworker? Say, a member of another guild.
Boros: Sir, let's just say I am not as kind to members outside my guild. I am not allowed to give any more detail for concern of retribution.
• LRR: Now, I see on your resume your current employers is a Ms… Aurelia. But you used to work for an archangel named Razia? Would Razia be available for a reference call?
Boros: No, sir. Ms. Razia is no longer among us. I can say she was a fan of my work.
• LRR: I see. I'm sorry for your loss. Well, what is Aurelia like?
Boros: Sir, I can give nothing but the highest compliments for our leader. Literally, I am forbidden but giving anything but the highest compliments. Watching her work is like observing a piece of art. She is fury personified. I mean that in the best possible way. Make sure they know that.
• LRR: We try to be an inclusive workplace, but—let's be honest—not everyone gets along. Is there any guild you see creating a hostile work environment for you? 
Boros: Sir, I believe every non-Boros individual waters down the glory that is the city of Ravnica. I grin and bear it but if I had my way, there would be nine less guilds in the city.
• LRR: I understand. Now, what would you say—and please try to be honest—is your worst quality? 
Boros: Sir, if I had to pick any flaw, I'd have to say I work too hard. I attack too often. I apply righteous fury a little too aggressively  and I probably kick a little too much ass.
• LRR: All right then! Lastly, is there anything else you'd like to tell us?
Boros: Sir, I want this job. I am the right choice for the job. If you hire anyone but me for it, you are making a grave mistake. Also I'm flexible on salary.
• LRR: Super, we'll be in touch. On your way out could you send the Simic Combine in? We've got to get through all nine guilds today, and Simic's frog-bird-crab-thing just peed on the lobby carpet. Thank you.