Happy monday all! The blog is back after a short respite and it returns with exciting appearance news.
As I'm sure everyone on the west coast knows, we're hosting our own convention called LRRCON on Saturday, May 10th.
But what if you want to see us and you don't live anywhere near Seattle. What if you lived in or near Detroit, home of fictional American hero Robocop? What would you do then? Well, you could just go to Midwest Media Expo! That's right, Graham, Kathleen, Beej and Cam will all be guests at the first annual Midwest Media Expo on April 25-27.

With that fun announcement out of the way, it's time to move onto videos! What do you get when you decide to become the ultimate computer hipster? Why this video, The New Old Thing! We made Paul dress as "cool" as we could muster for this shoot. Which in our world means a buttoned up shirt and a deep-side part. He was not pleased, but we hope you will be!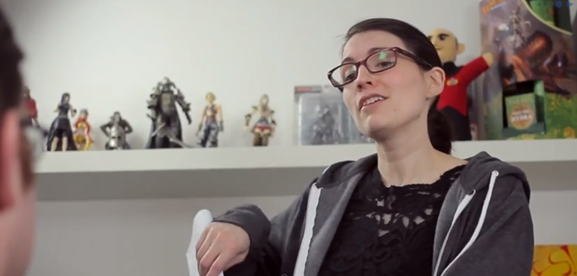 This week on Unskippable, Graham and Paul riff on the opening cutscene of Deception IV. A game that — despite it's incredible visual fidelity — it a PS3 title… and it's about? Hot demons? Doing bad things? But you don't see any of that? You set traps. The trap isn't that the 'demon' on the right is underage. I mean, she's a demon. She can look however she wants. So why not look like a 12 year old girl? Lure your enemies into a false sense of security… Or something.