Good morning/afternoon/evening/whatever time it is on the moon! We have a whole bunch of great new content to show you, but first I want to talk to you about our Twitch channel and how we plan on getting the word out in regards to our upcoming shows and what's on them. As promised here is this weeks run down. Click the image for a larger version.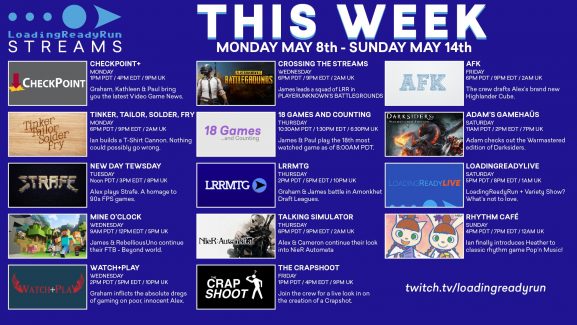 Starting next week this will be posted early Monday morning here on the blog. We'll also be showing this at the end of Rhythm Cafe and CheckPoint as well as posting to both Twitter and Facebook. Along with this image you can also visit our Twitch Event page where you can see all the weeks upcoming streams, set alerts to be reminded of shows you're interested in and the ability to share stream info on your social media.
ONTO THE VIDEOS!
Who the Hell returns and Bengineering is here to tell you all about Pokemon fan favorite Ash Ketchum.
Andy makes a very special guest appearance on Feed Dump 301.
Running Start rolls along with episode 7. Graham and Paul check out Resident Evil 7!
Crapshots this week included a kerning joke and we poke fun at content creation woes, how incredibly on brand for us 😀
Last, but not least we have CheckPoint. Stories include – Mario x Rabbids, Overwatch x Korean Politics, Witcher 3 x too many GPUs, Mei's apologetic voice lines, and Bob Ross x Smite.