So, in my blog post yesterday I mentioned the fact that I'd have a substantial announcement to make today. Well, that has quickly turned into three announcements, so I may as well throw them all in here.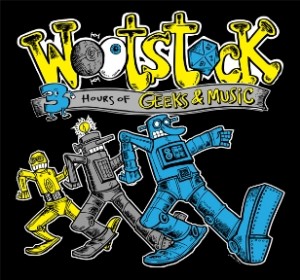 First off, here's the thing I had planned to announce: LRR will be at w00tstock in Seattle and Portland in May. If you're active on the forums, or noticed our little Twitter widget in the sidebar there, or follow Paul & Storm, you probably already know this, but the announcement had to be made official. Now it is.
While the crew was at PAX East, we had a very nice chat with Wil Wheaton and Misters Paul and Storm, and they invited us to be a part of this awesome show. Since we'd pretty much planned to attend as audience members anyhow, we jumped at this opportunity. We haven't hammered out full details yet, but we'll be showing a couple of videos and hanging around in person. Other guests and performers at the shows include Paul & Storm, Wil Wheaton, Adam Savage, Molly Lewis, John Roderick, Stephen "Stepto" Toulouse (who just got the cutest damned puppy I've ever seen), and Frayn Masters. This should be one hell of a show, so if you can make it to one, don't miss out. (And buy your tickets soon! They WILL sell out.)
Secondly, you may have noticed our very special stinger after the video yesterday.  Well, she said yes. Congratulations to forum members Wraith and TheRocketSiobhan on your engagement!
Our final news item of the day is one you're probably aware of if you've been on our forums or are a frequent user of The Escapist.  As of this morning, the big E has rolled out a new subscription program called "The Escapist Publisher's Club".  For $20 a year, you can now subscribe to The Escapist and gain access to special perks and premium content, including high quality and mobile video playback, behind-the-scenes features, and ad-free browsing. If you're not interested in subscribing, don't worry: none of The Escapist's free content has been rolled into this program, only bonus features. If you're on the fence, though, just remember that your support of The Escapist benefits us and our content in a very real and effective way.
That's all for this week!