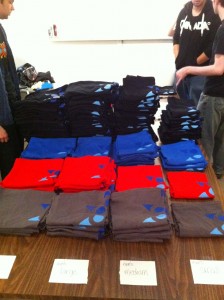 Are you one of the many LRR fans who ordered themselves a LRR Starburst shirt from our recent shirt design contest? Are you one of the many LRR fans who was starting to wonder if they were ever going to arrive? Well, take heed! They're on the way! As I type this post the LRR crew are toiling away making sure that every single shirt gets bundled up in a nice little package for delivery right to your doorstep (or mailbox, or apartment unit, or P.O. Box, etc.)! That means the overwhelming majority (if no all) will be in the mail
and on their way by the end of the week!
Additionally, if you ordered a Hustle DVD with your shirt, you'll be pleased to know that they're shipping together, and you'll find your self in possession of both as soon as they arrive.  We are sorry that it took so long to get these out, but there were a variety of hangups involved that were beyond our control, and they delayed us significantly. The shirts only arrived at the LRR office this morning, so we really are trying to get them out to you as quickly as we can possibly manage.
We hope that, despite the delays, you're looking forward to wearing yours just as much as we're looking forward to wearing our own.
If you didn't order a shirt or DVD, you can still do so over at http://loadingreadyrun.com/store. The surplus Starburst shirts aren't up yet (though they will be soon), but the Hustle DVDs are. Remember to check back for the shirts though, because they are limited, and when they're gone, they're gone.
Cheers!