Saturday, May 10th, 2014
What's 10 years old, weighs (about) 700 pounds and is going to have a big party with all its friends on May 10th in lovely Seattle, Washington? I really hope it's LoadingReadyRun because that's what we have planned!
We'd love it if you could help us celebrate the YRR of LRR with day of gaming, hangouts and fun topped off with a wacky variety show featuring us and a bunch of our favourite people on
Saturday, May 10th 2014. LRRCon will be held at the centrally located and highly affordable Hilton Doubletree Inn of Seattle Washington.
So what can you do at LRRCon?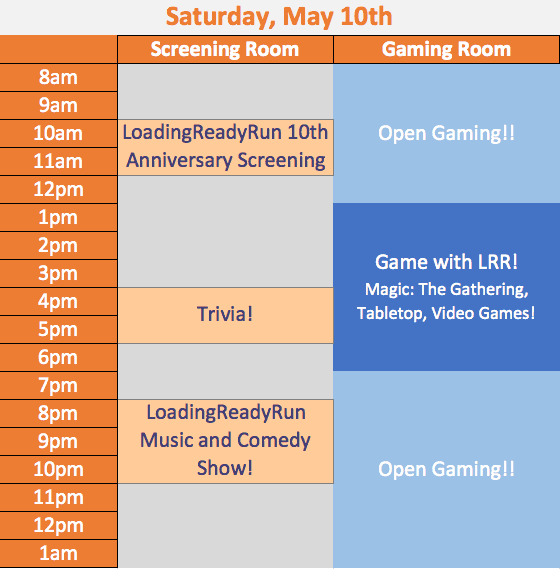 Full Printable Schedule [pdf]
THE GAMES ROOM
DO YOU LIKE BOARD GAMES? HOW ABOUT MAGIC THE GATHERING?! Well good news, we have both! Along with the 10th anniversary panel and the live show, LRRCon is about hanging out and playing games. We'll be providing a board game library for your borrowing pleasure, and as many Magic cards we can get our paws on for drafting fun times! Though it doesn't stop there. We also encourage all you MtG players to bring your Commander Decks, Standard Decks, Modern Decks... HECK bring your Legacy decks (no guarantee anyone else will) for pick up games of your favourite formats. The Lady Planeswalkers Society will be on hand to teach Magic and assist with drafts!
LRR TRIVIA GRAND PRIX
The LRR Trivia Grand Prix is a brain-busting quiz competition, testing your knowledge of Loading Ready Run and all things geeky! Get together your team of up to 6 and prepare to do battle on the topics of video games, sci fi, fantasy, the interwebz, pop culture, random knowledge, and much more! Prizes and awesome swag are in store for the top teams!
Emceeing the event is Mike, aka IQ 2000, longtime friend to LRR who most recently took on blogging duties for Desert Bus 7. Mike is a 10-year veteran of competitive trivia and former president of his university's trivia club. And, yes, according to an accredited online test, his IQ really is 2000. Hard to believe, but true.
Sign up your team in advance here!
THE PANEL
The whole LRR crew will on hand to answer your questions, play some of our favorite videos and give you a sneak peak at upcoming stuff.
THE SHOW
The evening of LRR Con, join us for a Dammit Liz-produced event! Special guests include:
Kris Straub
Kyle Stevens
Nerd Improv with members of LoadingReadyRun
The Doubleclicks
and more!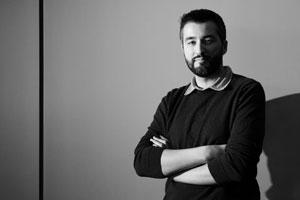 Kris Straub is a cartoonist, designer, writer and humor scientist. He's been producing content online since 2000. Current projects include Broodhollow, Chainsawsuit, Starslip, and the Chainsawsuit Podcast and videos.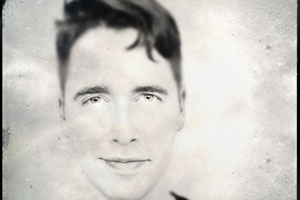 Kyle Stevens is the vocalist and songwriter for Seattle based nerd-rockers Kirby Krackle, a a group that has made a name for itself as the go-to band for rock-pop about comic books, video games, and the best of pop-culture. Since debuting in 2009, Kirby Krackle has toured countless conventions around North American and Australia, independently-released 5 albums, many singles, and wrote and performed the theme song for the week Marvel Comics web-series, "The Watcher".
In Spring of 2014 the band is releasing "Geekiest Hits: Vol. 1", a collection of their most beloved tracks and re-recorded fan favorites.
Nerd Improv:
Seattle-based improvisers will be sharing the stage with members of LRR as they make up scenes before your eyes. These improvisors have performed on stage, at PAX, and at comic conventions. Without a script, anything can happen!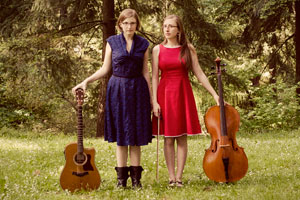 The Doubleclicks are a pair of sisters — Angela Webber and Aubrey Webber — who sing about Dungeons & Dragons, dinosaurs, and Mr. Darcy. They play cello and ukulele. Their latest album, Lasers & Feelings, includes songs about Mars Curiosity, meeting people on the Twitter, and Geek Girl pride, and debuted in the top 10 on the Billboard comedy charts. Their single for that album, a geek girl anthem called "Nothing to Prove" has been viewed over 1 million times on YouTube. The Doubleclicks tour the country regularly, and have shared bills with nerd and comedy superstars including Jonathan Coulton, Paul and Storm and Wil Wheaton. In early 2014, the Doubleclicks raised over $80,000 in a Kickstarter campaign to fund a new album and a music video project.
WHAT ELSE?
Watch some LRR videos you've probably already seen, but in a room with other people!
Touch your hands to our hands!
Evaluate some of LRR's finest merchandise and debate purchasing it!
See the first anniversary screening we've done since the really badly organized one we did like... three years ago!