Ladies and Gentlemen, the countdown clock has started for Desert Bus 2010.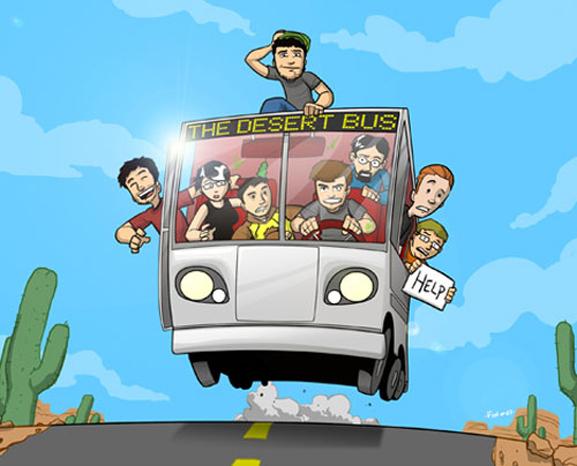 Over the past several months we have been hard at work organizing the best Desert Bus yet, and we can't wait for the event to get started! With just over 3 weeks until we start up the bus for the 4th time we've decided to start our countdown and open up donations. As is with tradition LoadingReadyRun has made the first contribution of $100.00 which takes us a healthy 30 hours into the event.
We have been receiving some great stuff for the craft-a-long this year and with only 4 more days until our cutoff date, if you still have something you've made and have yet to send it out, you're cutting it awful close. Along with the stuff you have been making we should be receiving some really cool stuff from various companies that wish to show their support, which means a lot of cool auctions and prizes for you guys!!
One last thing; As many (if not all) of you know in the past we have had 4 drivers working 4 hour shifts, this is no longer the case. After some discussions we decided to change things up. So this year instead of 4 drivers there will be 5 (James, Jeremy, Morgan, Bill, Kathleen) and instead of 4 hour shifts each driver will drive one 24 hour shift. Yup, you read that right, each of us will take one 24 hour shift, and if by some chance we get all the way to Thursday evening @ 6:00PM (we have never made it that far in the past) then James will jump back in the driver seat.
This year should be the best year yet and we can't wait to get started. We hope you guys feel the same!
Make sure to check back here to see the latest news and information leading up to the event!
And make sure you follow us on Twitter & Facebook