Here's a bright idea for you: watch our new video! you can find it here.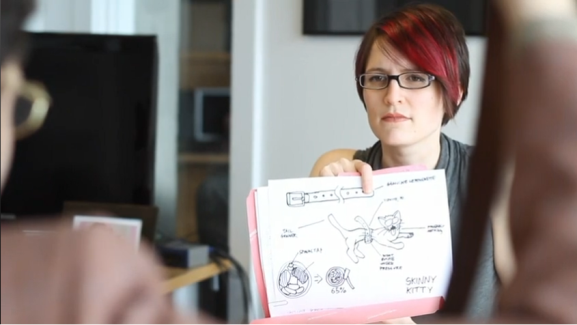 Truly I think this video outlines a problem I think we can all identify with. I'll leave it to you to determine which problem that is, but I'm sure it identifiies one. This was a Kathleen-written video, which will likely come as a surprise to no one who watches it. I had nothing to do with the creation of this video though, so I've left it to Kathleen to fill in the blanks:
It is considerably ironic that I'm writing this note about Bright Ideas while Khaavren sits on my lap and purrs, considering I play a crazy cat lady in this video. However, you can tell I'm acting because I'm a crazy cat lady patent lawyer instead of a crazy cat lady sketch comedy person.

This video came about because I was trying to write a piece of marketing stuff for my job and I was really hitting a roadblock. Eventually my brain decided it would be more fun to think of incredibly inappropriate things instead of product features, so I came up with the idea for 'poet-be-gone'. The rest of the video came out from there.

I really like Jer's acting in this – rather than channel the standard high energy crazy person, I requested he keep it more muted. When I was writing this video, I imagined the inventor being played by Michael Palin in Vocational Guidance Councilor sketch. I think Jer knocked it out of the park.
Unskippable this week was Monster Hunter Tri. You can watch that here.
Finally, the Desert Bus for Hope 5 countdown clock has been started, and with it, you'll find the details of the 2011 Desert Bus craft-along. Start your crafting engine by heading on over to desertbus.org and checking it out!
Cheers!