This week's videos have appeared, and suspiciously efficiently…
LRR: Suspiciously Good Movers
Unskippable: Dungeon Seige 3
Checkpoint: Acts of Ville-ainy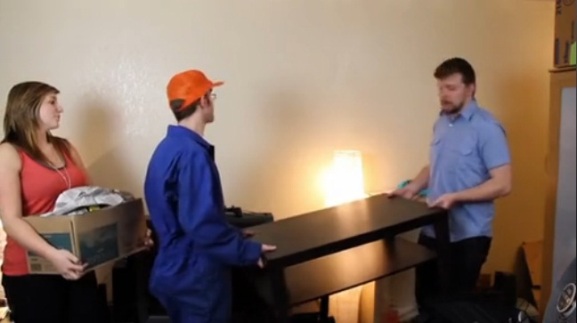 This week's video was co-written by Graham, and he delivered to me a little write up about it, but in no way did he deliver it via interdimensional teleportation device:
I don't even remember how this came up in conversation, but Paul and I had the idea for a moving company to flatly deny their use use of a teleporter and it ballooned from that. I really wanted to make it a video but couldn't quite add enough to it. I'd gotten as far as the wormhole, but it needed another level. When Paul and I worked over it we came up with the clone army, at which point you hopefully realize that in all appearances of Paul from earlier in the video, he's wearing different hats, because he's a different clone.

Shooting turned out well because Kate had just moved, and still had boxes everywhere. This video actually makes her apartment look bigger than it is, because between each shot we basically had to completely rearrange all the boxes in her living area. But the shoot only took us a couple hours on a Thursday night and it worked out really well!
On Thursday the LRR crew will be heading down to Seattle to participate in the Child's Play charity Dinner and Auction. If you're planning to be there feel free to stop us and say hi! We'd love to talk to you, and we're definitely hoping to see some of you there!
Have a great week!