Yo- Yo. bro. Hey, bro! Man, have I got some stories for you. You won't even believe 'em!
LoadingReadyRun: Jonny
Unskippable: Cursed Crusade
Checkpoint: Masters of Code, Not Money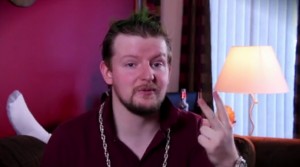 Allow me the (dubious) honour of introducing Jonny. Jonny's a new addition to our character roster, but we expect that you'll grow to love him. As if you don't already. He's the life of the party, after all!
Indeed, this isn't the last time you'll get to see Jonny wax poetic on his various celebratory adventures. We shot this video on Saturday at Ben's house, and immediately thereafter, we moved to a different (and super secret) location to shoot another! Much like the Story Guy videos of days past, the plan is to have Jonny return from time to time, to recount a tale of drunken debauchery, sexual conquest, and felony substance abuse. You'll have to wait a while for the next video though. As Much as Jonny talks tough, he doesn't have a new story to tell every week. So keep checking back, and one day, like Cyclops, he will emerge from the shadows, and shred you with his razor wit… claws.
Cheers!