Meet Jasmine Davis and Pete Butler, the creators of Knight Shift. Knight Shift a lighthearted card game about medieval servitude.
Series Producers: trin garritano, graham stark
Assistant Producer: Alex cox
Director: graham stark
Graphic Design: ben hantoot, emily haasch
Animation Director: kris straub
Assistant Director: kathleen de vere
Music: bradley rains
Editing: raymond steacy, kathleen de vere, graham stark
Producers: trin garritano, graham stark, max temkin
Sound: Emme dickerson
Camera: jason chinnock, lindsey burnett, sarah mendiola
Set Design: Matt Hooks
Host: Max temkin
Line Producers: trin garritano, alex cox, jenn bane
Production Assistants: karlee esmailli, kortney terry
Animation: kenneth macy, ross bradley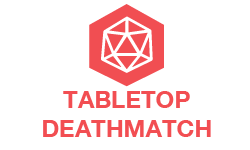 Tabletop Deathmatch is an independent game design contest run by Cards Against Humanity. We turned it into a webseries! We?ve assembled a panel of expert judges to pick an exceptional unpublished boardgame. The winning game will be brought to Gen Con 2015 and receive the money for a first printing.
---

More Tabletop Deathmatch videos