Today we'll meet the next finalist, game designer Thomas Gallecier, at his home in Topeka, Kansas. Shut Up and Take My Money! is an improv card game about crowdfunding and game design, so we had a bunch of crowdfunded game designers play it.

Today's Industry Experts were game designers Elisa Teague of Geek Out!, Kelsey and Michael Domeny of Two Penny Games, and Eliot Weinstein and David Munk, co-creators of Cards Against Humanity.

Learn more about Tabletop Deathmatch at http://TabletopDeathmatch.com or learn more about Shut Up and Take My Money! at http://boardgamegeek.com/boardgame/164601/shut-take-my-money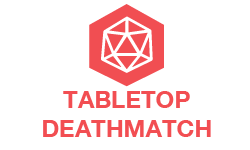 Tabletop Deathmatch is an independent game design contest run by Cards Against Humanity. We turned it into a webseries! We?ve assembled a panel of expert judges to pick an exceptional unpublished boardgame. The winning game will be brought to Gen Con 2015 and receive the money for a first printing.
---

More Tabletop Deathmatch videos