This post was originally intended as a video update post, as indicated by the banner above. However, it's friday today, all our videos are up, and despite incessant badgering on my part, Paul still hasn't sent me a write-up for this week's LRR video. So, I'm going to make this a sappy post-PAX thank you thread instead!
But first off, here are this week's videos, just to get them out of the way:
LRR: More Sleep
Unskippable: Fallout: New Vegas
Checkpoint: Nintendo 4DS
Feed Dump: The Prostitute Permit and Other Tales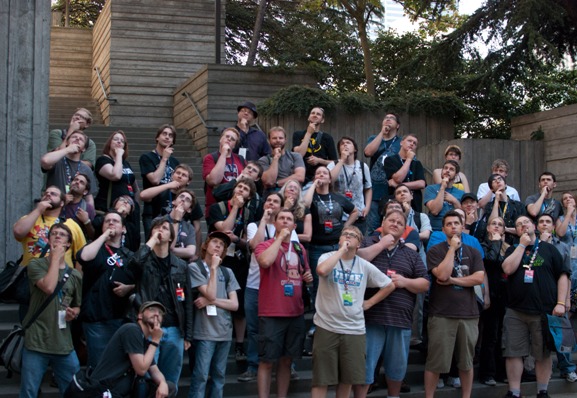 (Thanks to UnknownGamer from our forums for posting this photo in the PAX Thread, which, I'll admit, I shamelessly grabbed and reposted here.)
So, PAX is over, we've had a few days to recover, and there's no apparent outbreak of the PAX-pox among the crew. We had an absolute blast meeting all of you, and on behalf of all of LoadingReadyRun I'd like to extend our thanks for all the handshakes, hugs, photographs, cookies, and goofy hats from those three days in Seattle. We hope you enjoyed our panels, screening block, and meetup as much as we did.
For those that didn't make it to PAX this year, we look forward to meeting you (for the first time, or again) at one of the many conventions yet to come.
In summation, from all of us, thanks for being the greatest group of fans one internet sketch comedy group could ask for!
Cheers!