Ah, summer. That time of year when school is out, and playtime is in. Are you looking for ideas on how you can spend some time now that the sun is out and the weather is warm? We've got some ideas for you!
LoadingReadyRun: Ways to Spend Your Summer
Unskippable: NeverDead
Checkpoint: DOA Flashback
Feed Dump: French Fry Attack!
Loading Time: Behind the Green Screen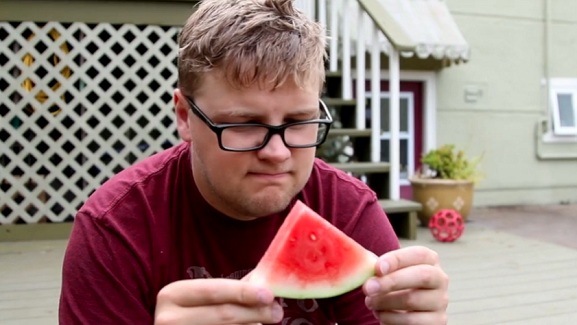 Filmed (in the majority) while Graham and Kathleen were out of town on Saturday, this video was primarily a James, Paul, and Matt production. The big prop in this one was the watermelon, which we procured from a local Thrifty's grocery store. James and Paul were quite impressed with the fact that I managed to so perfectly extract a slice from the side of the melon without otherwise compromising the integrity of the rind, but I didn't really think it was such a big deal. Is this a thing people normally have problems with? Have I discovered my super-power at last? In other notes, wearing my ski clothes was hot as hell, and I actually just stepped into the shower with my clothes on for the "Bathe in sweat" segment.
One final reminder (because it's coming up on Friday) that the LRR crew will be playing in the Duels of the Planeswalkers 2013 'Game With Fame' event this week. We'd really like to see you all come out and play. the crew has been practising all week, and we're sure it'll be a blast for all involved. Check out the details here.
Cheers 'til then!