Morgan's back in this week's LRR episode, which you should go watch right away if you haven't already!
LoadingReadyRun: Giving It
Unskippable: Ninja Gaiden 3
Checkpoint: Assassin's Editions
Feed Dump: Girls Dump
Loading Time: GP Vancouver
GPLP – Cursed Crusade: (PT9)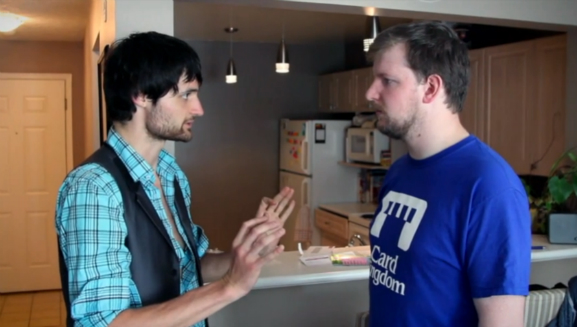 This particular video was filmed last Friday at James' condo, which you may recognize from a few of our other sketches. It's becoming ever more commonly used as a location, and we're always happy to add a little variety to our regular rotation.
Graham Gave me a little blurb for this update, because I wasn't around for the shoot on account of my day job. I've included his thoughts below:
This video was born out of an amusing conversation, inspired by an annoying quirk. It's not common, but occasionally when someone makes a clear statement along the lines of, "I don't like salami," someone will respond, accusatorially, with, "Or DO you?!"

Imagine if you will, someone (I don't recall who) saying, "I don't give a shit," and getting the response, "Or DO you?!"

This morphed into a conversation of how many shits one has to give in a day, and the conservation of shit-giving, and we realized there should be a video about someone who has made this their university thesis. I spun it out into this bizarre conversation, and here we are. Kathleen suggested Morgan should play Tristan, which was a smart choice. It's nice to see him back in a video.

Bonus points for catching the two LRR inside references. One is more obvious than the other.
As a final note, I'd like to thank everyone who came out (to Xbox Live) and joined us for the Magic 2013 Game with Fame event. We had an absolute blast playing with you, and we hope you had a great time too!
'Til next week!